---
---
---
---
---
---
---
---
Science Index rating


1nd in Education and Pedagogy thematic section (2020)

10th place in the SCIENCE INDEX for 2020 (more than 4000 journals)

Russian Science Citation Index two-year impact factor for 2020: 6,925 (the citation of all sources)

Russian Science Citation Index five-year impact factor for 2020: 3,483

Ten-year h-index 2020: 39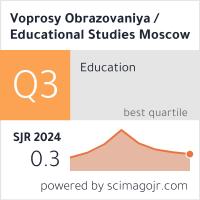 Evgeniy Terentev1,2, Nikolay Rybakov3, Boris Bednyi3

1 National Research University Higher School of Economics, 20 Myasnitskaya Str., Moscow, 101000, Russian Federation

2 National Research University Higher School of Economics, 16 Soyuza Pechatnikov Str., Saint Petersburg, 190008, Russian Federation

3 National Research Lobachevsky State University of Nizhny Novgorod, 23 Gagarina Ave, Nizhny Novgorod, 603950, Russian Federation
Why Embark on a PhD Today?
A Typology of Motives for Doctoral Study in Russia
Evgeniy Terentev – Candidate of Sciences in Sociology, Senior Researcher, Center of Sociology of Higher Education, Institute of Education, National Research University Higher School of Economics.

Address: 20 Myasnitskaya Str., 101000 Moscow, Russian Federation. E-mail: eterentev@hse.ru

Nikolay Rybakov – Graduate Student, Department of University Management and Innovation in Education. E-mail: rybakov-nv@phd.unn.ru

Boris Bednyi – Doctor of Sciences in Mathematical Physics, Professor, Director of the Institute of Doctoral Studies. E-mail: bib@unn.ru

National Research Lobachevsky State University of Nizhny Novgorod.

Address: 23 Gagarina Ave, 603950 Nizhny Novgorod, Russian Federation.

Data obtained in interviews with doctoral students and their academic supervisors as well as in doctoral student surveys conducted across six Russian universities is used to explore the motives for embarking on and pursuing a PhD, and evaluate their incidence. Drawing from Deci and Ryan's self-determination theory, three basic types of motivation are identified — intrinsic motivation, extrinsic motivation, and amotivation — and described in the context of doctoral education. Even though academic labor has been losing its prestige in Russia, intrinsic motivation associated with interest for research, science and education remains the most popular motive for embarking on doctoral study. At the same time, a significant percentage of doctoral students are driven by external non-academic motives, such as specific social benefits or desire to use PhD as an asset in a non-academic career.
Citation: Terentev E., Rybakov N., Bednyi B. (2020) Zachem segodnya idut v aspiranturu. Tipologizatsiya motivov rossiyskikh aspirantov [Why Embark on a PhD Today? A Typology of Motives for Doctoral Study in Russia]. Voprosy obrazovaniya / Educational Studies Moscow, no1, pp. 40-69.