---
---
---
---
---
---
---
---
Science Index rating


1nd in Education and Pedagogy thematic section (2020)

10th place in the SCIENCE INDEX for 2020 (more than 4000 journals)

Russian Science Citation Index two-year impact factor for 2020: 6,925 (the citation of all sources)

Russian Science Citation Index five-year impact factor for 2020: 3,483

Ten-year h-index 2020: 39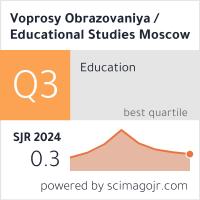 Paula Kelly1, Hamish Koates1, Ryan Naylor1

1 University of Melbourne, Elisabeth Murdoch Building (Building 134), Spencer Road, The University of Melbourne, VIC3010, Australia
Leading Online Education from Participation to Success
Paula Kelly - PhD Research Fellow at the Centre for the Study of Higher Education, University of Melbourne. E-mail: kelly.p@unimelb.edu.au
Hamish Coates - Professor - Head of the Chair of Higher Education at the Centre for the Study of Higher Education (CSHE), University of Melbourne. E-mail: hamishc@unimelb.edu.au
Ryan Naylor - PhD Senior Lecturer at Victoria University. E-mail: rnaylor@unimelb.edu.au

Address: Elisabeth Murdoch Building (Building 134), Spencer Road, The University of Melbourne, VIC3010, Australia

Online education has grown exponentially over the last few decades, churning through a swarm of acronyms, ambiguities and potentialities. Substantial energy has been invested in producing technology, building academic capability, and understanding learners and markets. Though it feels pervasive, online education is comparatively new in the scheme of higher education, and key education and business models remain in formation. To spur advancement, this paper argues that as online education matures increasing energy must shift from admissions and provision to ensuring each learner's success. We argue that online education presents new opportunities not just for the mechanics of higher education, but for improving each student's experience and outcomes. Central to such advancement is a clear picture of study success, cogent perspectives for understanding students, effective strategies for analysing and interpreting huge volumes of data, and more evidence-based academic leadership. The paper investigates each of these areas, provoking what institutions could seek to achieve. higher education, online education, quality of education, student's experience, evidence-based academic leadership.
Citation: Kelly P., Koates H., Naylor R. (2016) Onlayn-obrazovanie: put' ot uchastiya k uspekhu [Leading Online Education from Participation to Success]. Voprosy obrazovaniya / Educational Studies Moscow, no3, pp. 34-58.