---
---
---
---
---
---
---
---
Science Index rating


1nd in Education and Pedagogy thematic section (2020)

10th place in the SCIENCE INDEX for 2020 (more than 4000 journals)

Russian Science Citation Index two-year impact factor for 2020: 6,925 (the citation of all sources)

Russian Science Citation Index five-year impact factor for 2020: 3,483

Ten-year h-index 2020: 39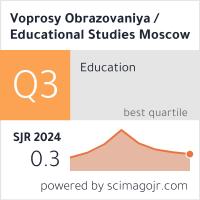 Takhir Aminov1

1 Akmullah Bashkir State Pedagogical University, 3a, Octyabrskoy revolutsii str., Ufa, 450097, Bashcortostan, Russian Federation
System of Professional Education in Regions of Pre-Revolutionary Russia (through the Example of Bashkiria)
Takhir Aminov - Doctor of Science, Professor, Chair of Pedagogy of Akmullah Bashkir State Pedagogical University; Chief Research Worker, Institute of Socialization and Education of the Russian Academy of Education. Address: 3a, Octyabrskoy revolutsii str., Ufa, 450097, Bashcortostan, Russian Federation. E-mail: tahir-aminov@yandex.ru

Development of professional education in pre-revolutionary Bashkiria can be divided into two relatively independent branches: Islamic and national Russian-language education. The former was launched in the 17th century, while the latter began to evolve in the mid-18th century. Specific features of their evolution were determined by geographical, economic, historical, ethnic and religious conditions that had been formed by that time in the territory of Ufa Governorate, which is now Bashkortostan. The paper describes religious, pedagogical, medical, commercial, legal, engineering, artisanal, agricultural, and other professional educational institutions that existed at that time. We provide an analysis of teaching practices applied by professional religious educational institutions, both Islamic and Orthodox, that prepared church ministers and teachers. We argue that diversity of types of teacher education institutions characteristic of the region was a unique henomenon, as the types included: 1) teacher institutes (Orenburg, Ufa); 2) teacher seminaries (Blagoveshchensk, Belebey, Sterlitamak); 3) Russian and non-Russian teacher schools (Ufa, Birsk); 4) teaching courses and classes provided by general education institutions; 5) teaching classes provided by women's gymnasia and progymnasia; 6) Islamic teacher education institutions; 7) Orthodox teacher education institutions (the rural localities of Nikolo-Beryozovka and Bakaly); 8) teacher training externship; 9) nonconventional forms of teacher training. Among the most significant achievements of pre-revolutionary professional ducation in Bashkiria, we should mention its multi-levelness, diversity, multifaith approach, and the aspiration of its organizers to satisfy interests of various population groups and to consider specifics of different regions. This system developed through creating a uniform educational space. Social initiatives played an important role, so education management was pretty much state and public.
Citation: Aminov T. (2014) Sistema professional'nogo obrazovaniya v regionakh dorevolyutsionnoy Rossii (na primere Bashkirii) [System of Professional Education in Regions of Pre-Revolutionary Russia (through the Example of Bashkiria)]. Voprosy obrazovaniya / Educational Studies Moscow, no3, pp. 244-262.