---
---
---
---
---
---
---
---
Science Index rating


1nd in Education and Pedagogy thematic section (2020)

10th place in the SCIENCE INDEX for 2020 (more than 4000 journals)

Russian Science Citation Index two-year impact factor for 2020: 6,925 (the citation of all sources)

Russian Science Citation Index five-year impact factor for 2020: 3,483

Ten-year h-index 2020: 39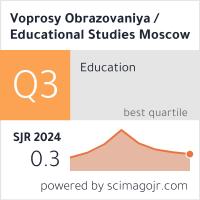 In honour of the jubilee of O.Y. Lebedev

7–24

Oleg Lebedev, Ped.D., Associate Member of the Russian Academy of Science, Professor at the Moscow School of Social and Economic Sciences, Moscow, Russian Federation. Email: o_lebed@mail.ru
Address: Bld. 2, 82 Vernadskogo Ave., Moscow, 119571, Russian Federation.

Relationship between objectives and outcomes in education is discussed from the perspective and in the context of the author's almost 60 years of experience. General objectives of school education are represented as a three-level system: a) develop the ability to choose a lifestyle that is consistent with modern changes in the society; b) provide experience in solving cognitive, communicative, and other student-related problems independently; c) teach activities that can be applied at school and beyond.

Commissioning of social services to the educational system is often misinterpreted. Today, commissioning of social services to schools reflects the demands of the rapidly changing society and suggests that school graduates should learn a new behavior enabling them to make decisions in situations of uncertainty. Nowadays, there is a huge gap between the need to provide conformance of school education objectives to the contract and the ongoing conservative focus on developing deep, comprehensive, and lasting knowledge. Meanwhile, developing deep, comprehensive, and lasting knowledge is not the central objective of school education. Instead, subject programs in school should be regarded as a set of opportunities that students can apply to their own comfortable extent, depending on their needs and cognitive abilities. In addition, the basic elements of the class-and-lesson system of education should be modernized.

The author sees the purpose of school education today in educating intelligent people who are able to make important choices in all aspects of life.

Educational Policies

25–68

Jamil Salmi, Ph. D., coordinator of the World Bank's tertiary education program (NW, Washington, D.C., United States), member of the International Advisory Panel, National Research University —Higher School of Economics, Moscow, Russian Federation. Email: jsalmi@tertiaryeducation.org Address: The World Bank Institute, 1818 H Street, NW, Washington, D.C. 20433, United States.

Isak Froumin, Ped.D., Professor, Director of Research and Development at the Education Institute, National Research University — Higher School of Economics, Moscow, Russian Federation. Email: ifroumin@hse.ru

This is an analysis of excellence initiatives to boost the university sector implemented in the past fifteen years in different countries of the world. The authors describe the key features of such initiatives and the major factors of their success, which are: a) high proportion of talented professors and students in universities; b) abundant resources allowing for a diverse educational environment and for advanced research; c) effective management which encourages strategic planning, innovations and flexible approach and thus enables universities to make decisions and to allocate resources with no additional costs. The excellence "accelerators" are specified. The paper studies various options of excellence initiative development and implementation, pointing to pros and cons of each of them.

Using international experience and assessing the recent reforms in Russian tertiary education, the authors come to the conclusion that projects designed to make Russian universities more competitive should have the following objectives: active development of multidisciplinary centers of excellence and postgraduate programs in major universities; targeted funding to support promising young researchers; internationalization of education; reformation of the management system. The essential prerequisites for excellence initiatives should be consistent funding and an infrastructure comparable to that of globally competitive universities.

It is emphasized that excellence initiatives designed to support research universities still leave open the need for systemic reforms in education, which are supposed to enhance the effects of excellence initiatives.

Theoretical and Applied Research

69–72

Katerina Polivanova, Psy.D., Professor in the Educational Program Department of the Institute for Educational Studies, National Research University — Higher School of Economics, Moscow, Russian Federation. Email: kpolivanova@mail.ru

The author analyzes the idea of acquiring new knowledge proposed by James Paul Gee. She summarizes the fundamental principles, follows the logics of arguments, discusses the form of expression, and draws parallels between the points in the article and Russian studies focused on the phenomena of action, game, and self-assessment.

Polivanova investigates into the notion of "identity" that Gee considers the original home of any human action, where newcomers realize their belonging to a social group and accept its appreciative systems. She discusses the problem of student identity in learning and the risks of buying into the identity of being a "good student", instead of buying into disciplines. The identity of following the learning rules distorts motivation for cognitive activities, creating an attitude of learning to avoid sanctions instead of learning for knowledge.

Gee's idea of self-assessment as an ultimate point of learning is analyzed in the context of the Russian theory of action. Polivanova points to the break-through nature of seeing self-assessment as a means of maintaining identity.

The commentary examines importance of the game in educational practices and relationship between knowledge and competencies. Gee's attitude towards formal assessment is presented. Polivanova also describes Gee's types of learning in the 19th century, which get more and more promising as new opportunities for modeling learning environments appear.

73–106

James Paul Gee, the Mary Lou Fulton Presidential Professor of Literacy Studies at Arizona State University, Phoenix, AZ, United States. Email: james.gee@asu.edu
Address: 411 N Central Ave, Phoenix, AZ 85004, United States.

The "basic circuit of human action" is analyzed to argue that assessment, as a "natural" practice, has its original home in human action and learning. Identity to a social group with specific conventions, as integral part of any activity, implies motivation, interest, and engagement. If students in school do not "buy in" enough to "live up to" their new identity, they are forced to take on an identity they do not want. However, if they do buy into the standards, they develop appreciative systems, thus becoming self-assessors.

Five learning environments are described. School often engages in Actual Environment Learning and Pretense Environment Learning in an odd way, creating a specialized domain we might call "doing school". As a result, students strive to buy into the rules, instead of disciplines. When it's hard to bring some actual real-world domains into school, it is suggested to bring in Sim versions of these domains, as with learning in Pro-Am communities.

The game is regarded as a simplified model of a domain creating a well designed learning space that controls complexity and orders what is to be learned in effective ways. Learning of any type should be oriented at knowing exactly what are the trajectories towards mastery and finding the opportunity to bring in some innovations.

Assessment in regard to much learning needs to be developed in terms of seeing that learners have developed appropriate appreciative systems for every domain and are developing them on a trajectory towards mastery.

Practice

107–135

Yuliya Tyumeneva, Ph.D. in Psychology, senior researcher at the Center for Monitoring Educational Quality, National Research University — Higher School of Economics, Moscow, Russian Federation. Email: jutu@yandex.ru

Yuliya Kuzmina, analyst at the Center for Monitoring Educational Quality, National Research University — Higher School of Economics, Moscow, Russian Federation. Email: papushka@mail.ru

This study uses PISA-2009 (reading) results to estimate effects of spending one year in schools of Russia, the Czech Republic, Hungary, Slovakia, Germany, Canada, and Brazil. An instrumental variable was used, which allowed to assess the effects using a flexible regression discontinuity method. The analysis involved both general education schools and schools combining general education with vocational courses. Overall effects of spending one year in Russian schools turned out to be insignificant. The effects are lower in the countries with early division into general and vocational programs than in the countries where all 15-year-old students take general education programs only. Moreover, effects of spending one year in schools with general education only are found to be large in all countries. Vocational students have lower academic progress as compared to students in schools with general education trajectories. The relationship between socioeconomic status and efficiency of school education, as well as the extent and power of this relationship, depend a lot on the educational system and vary widely from country to country. In Russia and in some other countries, effects of studying have nothing to do with socioeconomic status of students. The results obtained may be very important in assessing efficiency of education and in assessing national achievements properly in countries with different sets of educational trajectories.

136–155

Alexander Sidorkin, Ph.D., Dean of Feinstein School of Education and Human Development, Rhode Island College, Providence, RI, United States.
Email: asidorkin@ric.edu Address: 600 Mt Pleasant Ave, Providence, RI 02908, United States.

The paper considers the accreditation system, professional standards of faculties of education and innovations in teacher training in the US. The experience of American universities is analyzed with regard to major aspects of possible pedagogical education reform in Russia.It is suggested that modernization of Russian pedagogical education system should bring together advantages of Russian universities and the most efficient foreign practices. Due to unverified validity and high financial cost, it is not recommended to adopt wide use of alternative pedagogical education programs and the Added Value Model in assessing performance of faculties of education based on achievements of students taught by graduates. Emphasis is placed on the positive experience of the American professional accreditation system, the two-level teaching certification, elements of the Clinical Model of teacher education designed to develop partner relationship between universities and schools and involving intensive teaching practices, and active teacher internship in schools allowing to increase significantly the quality of education and to reduce staff turnover rate. The author sees the most appropriate form of accreditation for Russian teaching programs in enhancing the existing uniform accreditation system while applying specific standards and requirements to fields of study in education. Practical tips are given to transform the existing standards. The author discusses feasibility of integrating pedagogical HE institutions with universities and alternative ways to develop the former. He explores opportunities for attracting talented candidates to pedagogical institutions and advantages that the double degree educational system provides for training experts of better qualification using Master's degree programs.

156–173

Galina Golub, Ph.D. in History, Director of Autonomous Non-Commercial Organization "Laboratory for Modernization of Educational Resources", Samara, Russian Federation. Email: lmor@mail.ru Address: Apt. 90, 122 Avrory St., Samara, 443045, Samara Oblast, Russian Federation.

Irina Fishman, Ped.D., Associate Professor in the Social and Education Management Subdepartment, Samara State Academy of Social Sciences and Humanities, Samara, Russian Federation. Email: irina_fishman@list.ru Address: 65/67 M. Gorkogo St., Samara, 443099, Samara Oblast, Russian Federation.

Lev Fishman, Ph.D. in Economics, Ped.D., Dean of the Department of Economics and Management, Samara State Academy of Social Sciences and Humanities, Samara, Russian Federation. Email: fishman@mail.ru Address: 65/67 M. Gorkogo St., Samara, 443099, Samara Oblast, Russian Federation.

Results of an analysis of more than two hundred Federal State Educational Standards of Higher Vocational Education (FGOS VPO) are presented. The authors analyze how universal cultural competencies are formulated by these standards and whether or not they meet employers' demands.

One of the reasons why new requirements do not result in transforming educational processes is the high quality of new higher vocational education standards. Errors in determining the universal cultural competencies are classified and described. Such errors are believed to originate in the misunderstanding of the differentiation between the two components of vocational education: a) general higher education (teaching students to use external resources, such as information or communication, learn to solve problems, and master self-management) and professional qualification (teaching students to apply internal, or acquired, resources, such as knowledge, skills, and experience).

The authors suggest principles that should be used in operationalizing FGOS VPO formulations so as to develop and assess general competencies. What they also suggest is an algorithm to define general competencies of higher vocational education standards more precisely at the university level. An example of operationalizing the definition of a general competency is given.

The authors argue that requirements to general competencies of graduates should provide uniform educational and cultural levels across the social stratum and satisfy demands of potential employers. Such requirements will allow to transform educational processes so that education technologies would help students learn to perform the most common activities associated with information, communication, self-management, and problem solving.

Education Statistics and Sociology

174–182

Based on the data obtained by Yuri Levada Analytical Center

Natalya Bondarenko, senior researcher in the Living Standards Department of Levada Center, Moscow, Russian Federation. Email: nut@levada.ru
Address: 17 Nikolskaya St., Moscow, 109012, Russian Federation.

Using results of annual polls of employers from 2006 to 2012, the report presents an analysis of major labor market trends in hiring graduates from professional education institutions. The most recent poll was carried out in the second half of 2012 using panel sampling and involved 1,000 companies from six industries (manufacturing, construction, transport, communications, business services, and trade).

It has been found out that the number of hired graduates of all levels of professional education reduced in 2012, as compared to 2011. The paper analyzes the demand for university graduates in the labor market as a whole and in each of the abovementioned industries. All categories of companies, either small, medium, or large, tend to employ higher education graduates less and less often. Intensity of using this recruiting channel is compared for all the three business sizes.

The report analyzes how employers assess qualification of graduates from education institutions of different levels (universities, colleges, technical, vocational and trade schools). The report identifies the proportion of companies that have had an experience of hiring Bachelors and Masters, compares how company leaders assess qualification of double degree graduates and specialists, and specifies priority criteria for selecting candidates among HE institution graduates.

The report has also examined intensity of cooperation between employers and the educational system, determining how this intensity depends on whether or not a company has an HR department. Major forms of such cooperation have been identified. Prospects for cooperation between businesses and professional educational institutions in 2012–2013 have been outlined.

183–204

Dmitry Didenko, Ph.D. in History, research fellow at the Institute of Sociology, Russian Academy of Sciences, Moscow, Russian Federation. Email: ddidenko@bloomberg.net
Address: Bld. 5, 24/35 Krzhizhanovskogo St., Moscow, 117218, Russian Federation.

Grigory Klyucharyov, Ph.D. in Philosophy, Professor, Head of the Department of Socioeconomic Studies, Institute of Sociology, Russian Academy of Sciences, Moscow, Russian Federation. Email: kliucharevga@mail.ru
Address: Bld. 5, 24/35 Krzhizhanovskogo St., Moscow, 117218, Russian Federation.

Large-scale opinion polls of experts conducted in 2009–2011 are used to identify trends in modernizing the existing Russian higher education system. It is shown that higher vocational school currently concentrates its functions and resources on training students for a catch-up socioeconomic development. 90% of higher education institutions counting for about 80% of the student body run a model of catch-up education.

The authors reveal specific features of innovative and catch-up vocational education, analyze their proportions in Russian higher education, enumerate major trends of modernization initiatives launched by innovative universities, and examine the intermediate result of implementing an innovative strategy of vocational education development.

An empirical analysis of data has shown that the innovative model is committed to lifelong learning and promotes active expansion of learning space. Meanwhile, activities of educational institutions are not limited to formal teaching but receive socioeconomic implications instead.

The learning process is based on forms and methods typical of the catch-up model, which gives specific importance to employer-sponsored education as the most reliable guarantee of fulfillment of obligations by graduates and sponsoring businesses.

In universities of both models, there is a huge gap between education content and real labor market demands. The innovative model has proved to provide a higher graduate employment rate than the catch-up one. The authors confirm that Russian universities implement very few supplementary education programs and have a weak relationship with the labor market and real businesses.

205–231

Dmitry Popov, Ph.D. in Sociology, senior researcher at the Center for Monitoring Educational Quality, National Research University — Higher School of Economics, Moscow, Russian Federation. Email: dmitry_popov@sociolog.net

Yuliya Tyumeneva, Ph.D. in Psychology, senior researcher at the Center for Monitoring Educational Quality, National Research University — Higher School of Economics, Moscow, Russian Federation. Email: jutu@yandex.ru

Yuliya Kuzmina, analyst at the Center for Monitoring Educational Quality, National Research University — Higher School of Economics, Moscow, Russian Federation. Email: papushka@mail.ru

Using materials of an extensive survey of first-year students, the authors analyze specific aspects of students' adaptation to learning in universities. A two-step cluster analysis has revealed seven qualitatively differentiated groups of students in Moscow universities. The study compares learning difficulties, attitudes to social life at universities, and distinctive features of goals in life and education in all the seven groups.

It has been established that first-year students are primarily differentiated by their family status and by the reasons for choosing their field of study. These factors are responsible for different attitudes towards education and belonging to the university in the first year of studies. Academic performance at school plays a less important role in differentiating between the student groups. The most significant differences between the groups are found in students' confidence about their future careers and in their overall assessments of learning experience. The authors identify types of learning activities where different clusters encounter most difficulties. The paper contains a comparison of how first-year students from different clusters assess the choice of field of study they have made.

Each of the clusters is described in detail. Prospects for using the cluster analysis method are specified. Through the example of some student groups, the authors give recommendations on how to create programs oriented at satisfying students' needs and compensating for specific deficiencies. Cluster analysis results may later be used to trace educational trajectories of students from different clusters.

History of Education

232–255

Yelena Vishlenkova, Ph.D. in History, Professor in the Subdepartment of Social History, Faculty of History, National Research University — Higher School of Economics, Moscow, Russian Federation. Email: evishlenkoa@mail.ru

Kira Ilyina, Ph.D. in History, junior researcher at Poletayev Institute for Theoretical and Historical Studies in the Humanities, National Research University — Higher School of Economics, Moscow, Russian Federation. Email: glukist@mail.ru

Using archival and legislative sources, the authors reconstruct template documents, rate of document flow and features of document management in Russian universities of the first half of the 19th century. Document management is regarded as an administrative practice allowing the Ministry to inculcate bureaucratic values and an ethos of serving the government in professor, making them renounce their administrative autonomy.

Being engaged in bureaucratic re-arrangement of reality, Russian professors very soon embarked on paperwork, which boosted the document flow in universities. The large scale of this behavior model indicates that a new type of university culture was born.

Bureaucratic management of universities in the Russian Empire was different from that in Western countries in that it aimed to make the document flow uniform with other public institutions and to develop uniform rules and formal language. As a result, professors gradually lost the opportunity to express their own opinions and to take initiative in communicating with the government. The authors emphasize the subordinate nature of activities performed by professors to satisfy relevant governmental demands, which suggested that professors assisted in opening new schools, controlled existing ones, eradicated prejudice, obtained primary data on imperial regions and resources (topographic, meteorological, ethnographic, and economic data), and disseminated Western scientific ideas and knowledge in regional culture. An analysis of document management in Russian universities of the first half of the 19th century has shown that they were part of the administrative structure at that time, which diminished their status significantly, as compared to Western universities.

256–272

Maksim Kail, Ph.D. in History, Associate Professor at Smolensk State University, Smolensk, Russian Federation. Email: mvkail@mail.ru Address: 4 Przhevalskogo St., Smolensk, 214000, Russian Federation.

As exemplified by organization of Smolensk State University, one of the first six universities established in Soviet Russia, the paper explores how governmental authorities, private initiatives, intellectuals, associations, scientific communities, and prominent scientists were getting involved into development of university education in Russia. Establishment of the university is regarded as a sociocultural phenomenon that determined development of education, science, and culture in the macroregion (the Western region of Russia).

The author identifies stages of establishment and organizational challenges of the Smolensk University. He describes its structure in the first years of existing and demonstrates importance of the young Western region university for the regional community.

The key role in establishing the Smolensk University was played by regional initiatives and uncompromising measures taken by the University Organization Committee. Thus, higher education in Soviet Russia owed its existence and development mostly to private and social scientific initiatives. Overcoming objective or subjective difficulties in development of the Smolensk University often depended directly on the will and nerve of the leading scientists, departmental teams of scientists and educators, and the university as a whole.

Creating a regional university and developing some of the fields of study were determined by the needs of the region, by its physical and staff resources. A prompt development of university infrastructure in the harsh conditions of the Civil War is explained by the highest priority that regional authorities placed on building a higher educational system.

Discussion

273–277

Andrey Volkov, Eng.D., Rector of Skolkovo — Moscow School of Management, Skolkovo, Russian Federation.
Email: Andrei_Volkov@skolkovo.ru
Address: 100 Novaya St., Skolkovo rural locality, Odintsovsky District, Moscow Oblast, 143025, Russian Federation.

The interview is about the idea of a new type of university that implies training people and teams to face the real-time challenges by designing new activities and transforming the existing corporations, industries, and territories.

The new model differs fundamentally from the research university model. Research strategies of the new type will be largely based on observing global trends and challenges that impose new existence conditions on humans, corporations, and states. The key functions will include applied research consisting in creating knowledge that can be used to solve a real-time problem in a specific situation.

As proved by earlier types of university, each new model occurs as a response to emerging sets of global challenges. Thus, the new model of university focused on designing new activities and developing the existing corporations and institutions is considered a response to the ever-growing rate of change in the world and to the need to solve difficult management and socioeconomic problems. Volkov also reveals prerequisites for inevitable changes in the existing educational system.

Volkov believes that educational process should aim to conform to professional standards established by employers and to develop creative thinking skills, which are getting more and more demanded in the labor market. There is a need to develop advanced methods and forms of education to let students become active players in the educational process.

Finally, Volkov touches upon importance and efficiency of monitoring activities of higher professional educational institutions by the Ministry of Education and Science.

Reflections on…

278–300

Lev Lyubimov, Ph.D. in Economics, Professor in the Subdepartment of Macroeconomic Analysis, Deputy Director of Research and Development at National Research University — Higher School of Economics, Moscow, Russian Federation. Email: lubimov@hse.ru

From the author's point of view, growing individualism, globalization leading to mass cosmopolitanism, and increase in migration pressure have exacerbated erosion of civic consciousness, national identity and patriotism in dozens of countries, This is one of the most significant challenges the society faces today. The author speculates on the background for low civic consciousness among Russians and for the erosion of Russian national identity.

Developing civic consciousness is considered one of priority goals of school education system. The author identifies and describes the key features of national values which, as he believes, should form the basis for developing value-oriented attitudes in students. The study investigates into the aspects of education and socialization that develop civic consciousness, national identity and patriotism in school students. It is argued that value-oriented educational programs will have more success if they are presented in the form of an evolving discourse encouraging children to share and use freely their own sociocultural and internal experience. It is underlined that activity-based education and involvement into social life enable students to understand processes going on in their local community, to make decisions, to follow them, and to share responsibility for them, thus developing a positive attitude towards active citizenship.

A focus is given to the special role that the state and its institutions play in developing civic consciousness, as well as to the relationship between this pedagogy and characteristics of a specific society, whether basic or reasonably expected.

Workshop of publications

301–305

Yuliya Tyumeneva, Psy.D., senior researcher at the Center for Monitoring Educational Quality, National Research University — Higher School of Economics, Moscow, Russian Federation. Email: jutu@yandex.ru

Anisya Yaremenko, M.A. in Psychology, intern researcher at the International Laboratory for Education Policy Analysis, Graduate School of Education, National Research University — Higher School of Economics, Moscow, Russian Federation. Email: anisia89@gmail.com

The paper specifies requirements of The Journal of Educational Studies to publications on results of development of an assessment tool. The term "tool" is used here as a of widespread standardized assessment procedures, such as tests, questionnaires, scales, algorithms, etc.

The Guide has been developed in compliance with American Psychological association, American Educational Research Association, and National Council on Measurement in Education standards.

Articles on results of assessment tool development should contain the following indispensable information: theoretical grounds for the developed tool; existing assessment tools for the same or similar construct and advantages of the developed tools before them; description of the developed tool; the method of ensuring assessment tool reliability and validity; analysis results. Description of the tool should always include structure of the tool, and scoring. Description of the method of verifying assessment tool reliability and validity should always include: procedure and participants; tools applied for analysis; analysis strategy. Description of results of verifying assessment tool reliability and validity should always include: scoring reliability; validity; standard range, if any. Description of each structural element is supported by relevant examples in the Guide. Additional recommendations are given on how to describe the research procedure with due account for possible specific factors.

The Guide will allow authors to identify and fill any possible gaps in their research.