---
---
---
---
---
---
---
---
Science Index rating


1nd in Education and Pedagogy thematic section (2020)

10th place in the SCIENCE INDEX for 2020 (more than 4000 journals)

Russian Science Citation Index two-year impact factor for 2020: 6,925 (the citation of all sources)

Russian Science Citation Index five-year impact factor for 2020: 3,483

Ten-year h-index 2020: 39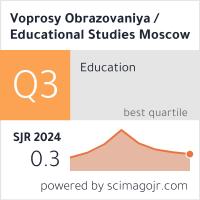 Elena Drugova1,2, Svetlana Veledinskaya2, Irina Zhuravleva2
The Role of Instructional Design in Promoting Digital Pedagogy. Review of the book: Beetham H., Sharpe R. (2020) Rethinking Pedagogy for a Digital Age
Elena A. Drugova, Candidate of Sciences in Philosophy, Master of Education, Director of Scientific Institute of Advanced Learning Technologies, National Research Tomsk State University; Senior Researcher at the Network Research Center "Man, Nature, Technology", Tyumen State University. E-mail: e.a.drugova@ gmail.com (corresponding author)

Svetlana B. Veledinskaya, Candidate of Sciences in Philology, Director of the Center for Continuing Education and Professional Development, National Research Tomsk State University. E-mail: sbv@ido.tsu.ru

Irina I. Zhuravleva, Master of Education, Analyst, Scientific Institute of Advanced Learning Technologies, National Research Tomsk State University. E-mail: izhuravleva235@gmail.com

Address: 36 Lenina Ave, 634050 Tomsk, Russian Federation.

According to the authors of the joint monograph Rethinking Pedagogy for a Digital Age: Principles and Practices of Design, not only does the digital society shape the demand for new skills and methods of learning how to learn but it also generates challenges in economy, digital security, privacy, and ethics. From this standpoint, the authors show how instructional design responds to the challenges of digitalization, what should be taught to modern students, what learning outcomes students need, what kinds of resources, technologies and learning environments are required, and how the teacher's role is changing. Part One, Theories and Principles, looks for foundations for instructional design decisions, suggesting three perspectives: associationist, cognitive and situative. Learning activities are shown as the focus of instructional design, and learning outcomes are understood as clearly defined changes expected from the learner. Ideas for collaborative online and blended learning designs for learning communities are put forward as a response to the growing demand for methods of social learning in online environments. Part Two, Practices, analyzes the results of over ten years' work with teachers. A number of cases from Australian and British universities are used to demonstrate how pedagogical design projects helped solve the strategic problems of introducing a new framework of graduate attributes, promoting teacher research and its deeper integration into the learning process, and organizing a mass transition to blended learning. Part Three, Influences and Futures, addresses the challenges and prospects of instructional design for mobile and professional learning, providing a critical analysis of the datafication of education and learning analytics.
This monograph is an important step toward rethinking the role of pedagogical design in the coming age of digital reality. The principles of instructional design are discussed and adjusted by the authors with due regard to the ongoing transformation of the student and teacher roles, learning environment, and expected learning outcomes. The ideas expressed in the book become especially relevant amidst the emergency digitalization of education during the COVID‑19 pandemic and the high demand for a quality redesign of educational products.
Citation: Drugova E. A., Veledinskaya S. B., Zhuravleva I. I. (2021) Razvivaya tsifrovuyu pedagogiku: vklad obrazovatel'nogo dizayna. Retsenziya na knigy: Beetham H., Sharpe R. (2020) Rethinking Pedagogy for a Digital Age [The Role of Instructional Design in Promoting Digital Pedagogy. Review of the book: Beetham H., Sharpe R. (2020) Rethinking Pedagogy for a Digital Age]. Voprosy obrazovaniya / Educational Studies Moscow, no4, pp. 333–354. https://doi.org/10.17323/1814-9545-2021-4-333-354