---
---
---
---
---
---
---
---
Science Index rating


1nd in Education and Pedagogy thematic section (2020)

10th place in the SCIENCE INDEX for 2020 (more than 4000 journals)

Russian Science Citation Index two-year impact factor for 2020: 6,925 (the citation of all sources)

Russian Science Citation Index five-year impact factor for 2020: 3,483

Ten-year h-index 2020: 39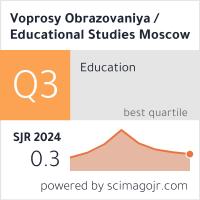 Elena Kalinina1

1 Petrozavodsk State University, 33 Lenina pr., Petrozavodsk, the Republic of Karelia, 185910, Russian Federation
Reform of Secondary and Primary Education in Russia during the Reign of Nicholas I
Elena Kalinina - Candidate of Sciences in History, Research Fellow, Petrozavodsk State University.
Address: 33 Lenina pr., Petrozavodsk, the Republic of Karelia, 185910, Russian Federation. E-mail: kalinka46@yandex.ru

The paper investigates into the basic components of the education reform introduced during the reign of Nicholas I: abolishment of continuum in the schooling system, valid education at each stage in school, considerable changes to general school curriculum, enhanced control and supervision. A number of decrees, charters and regulations were issued to establish various types of educational institutions: gymnasia, district colleges, boarding schools, academies for clerks' children, private primary schools, and village schools. As a result, the network of educational institutions was essentially expanded. Lower educational institutions under the Most Holy Synod, the Ministry of State Property, Department of Mining, and other agencies made primary education accessible to a lot of children in villages of state-owned peasants. The rules of control, management and supervision in the department of education were strictly defined, with much focus placed on the legal and social status of Russian teachers. Teacher retirement insurance became a progressive step in development of labor legislation. Reactionary policy in the reign of Nicholas I was intensified, in particular, through the growth in number of officers performing supervision and control over educational institutions. The system of dual school subordination increased the flow of paperwork and messed up the control system. Seemingly trivial issues could hardly be resolved locally. For instance, approval of the central government bodies was required to appoint gymnasium superintendents, to introduce new curricula, to provide summer vacations for teachers, to ensure incentives for good work, or to develop the examination procedure. The relatively independent university management in subordinate educational districts, which had been adopted in the early 19th century, was gradually fading out to give way to clear arrangement of control and supervision over the schooling system.
Citation: Kalinina E. (2014) Reforma srednego i nachal'nogo obrazovaniya v Rossii pri Nikolae I [Reform of Secondary and Primary Education in Russia during the Reign of Nicholas I]. Voprosy obrazovaniya / Educational Studies Moscow, no4, pp. 227-245.